SONOS MOVE
THE FIRST PORTABLE WI-FI & BLUETOOTH SMART SPEAKER FROM SONOS
 Here at Blason's we are excited to receive the first delivery of the new Sonos Move portable speaker. 
They will be available from Monday and are aready in high demand. Order yours today 🙂
Available here:
https://blasons.co.uk/shop/audio/hifi/speakers/network-speaker/sonos-move/
The Move is the first Sonos speaker to incorporate WiFi & Bluetooth technology enabling you to enjoy all the benefits of the Sonos WiFi ecosystem around your home with the added flexibility of switching to Bluetooth when you're away and offline.
WiFi at home, Bluetooth everywhere else with 10-hour battery life
Automatic Trueplay tuning that perfectly balances the sound for where you are and what you're listening to
Google Assistant and Amazon Alexa built right in
Weatherproof & drop-resistant enclosure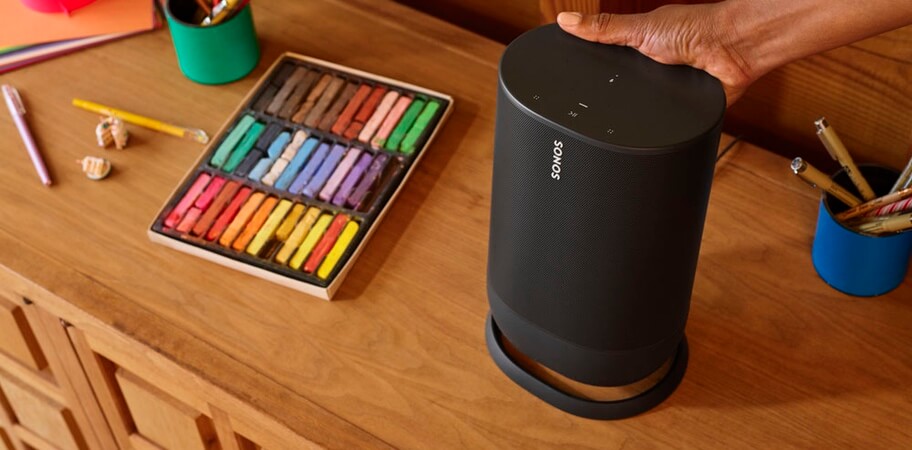 BRILLIANT SOUND WITH AUTO TRUEPLAY TUNING
Experience surprisingly deep bass, a wide soundscape, and now with automatic Trueplay tuning to perfectly tune the sound for where you are and what you're listening to.
Enable AutoTrueplay in the Sonos App and the speaker will detect when it is lifted and will automatically calibrate to its new surroundings when placed in its new space.
AMAZON ALEXA OR GOOGLE ASSISTANT? THE CHOICE IS YOURS
With Google Assistant and Amazon Alexa built right into Move, when on WiFI you can play music, check the news, set alarms, get your questions answered, and more, completely hands-free. A 6 Far-field microphone array uses smart voice capture and noise cancellation to ensure you are heard in all situations.
A switchable microphone button & illuminated LED indicator light ensures you're always aware when the microphone is active, allowing for complete privacy.
BUILT TO KEEP THE MUSIC PLAYING
With a 10-Hour battery life & drop resistant casing, Sonos Move has been engineered to withstand outdoor listening.
An IP56 rating allows Move to deal with rain, snow, dust, salt spray, UV rays, and extreme heat and cold.
SIMPLE TO RECHARGE
No need to plug Move in. Set the speaker on the included indoor charging base for quick power while you listen.